Event Details
Back to Event List
Fri 01.31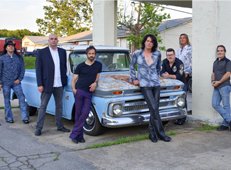 KICK - THE INXS EXPERIENCE
Genre: Tribute
Doors: 7:00 PM
Showtime: 9:00 PM
Tickets: This event has already occurred. Tickets are unavailable.

KICK - The INXS Experience is the USA's most captivating salute and tribute to the internationally acclaimed rock band, INXS.

Formed in 2014, two years after INXS stopped touring, KICK - The INXS Experience has beautifully managed to capture the spirit of INXS in both its sound and live performance, bringing the highest level of musicianship to the audience while showing a true passion for the music of INXS. Vocalist, guitarist, and singer-songwriter Cory Massi is the founding frontman of KICK, and has long held a respect and admiration for the late great Michael Hutchence. Massi even auditioned for the reality TV show, Rockstar: INXS, in 2004, where contestants competed to become the new lead vocalist for INXS. What convinced him to audition? "I loved Michael's singing and his personality," notes Massi. "I saw INXS when I was a teenager in '88 and '89; they were great, and the people were just gaga over them. Michael left a big impression with his star power; he really had it, that guy. Our range is similar and I just went for it. I had to sing "Mystify" acappella so I was kind of nervous because I didn't have a band behind me. There was a camera a foot away from my face and it was out of my comfort zone; I would probably still feel uncomfortable today. I didn't get the gig: I was one of the last people to try out and I think by the time I auditioned they had already made their selection. No excuse: it was a good experience. We include "Mystify" in our set and when I sing it, I have my band with me and we love the music, so we play it with a lot of heart."

KICK is already garnering the attention, admiration, and accolades of well-seasoned "ears" in the music industry. Radio personalities in several markets have been quick to offer praise; WZXL / Atlantic City program director Steve Raymond, a longtime fan of INXS, raved after listening to only part of one song, "Wow! These guys have got the vibe down. Really impressive!" 107.1 The BOSS (WWZY)'s midday air personality Michele Amabile concurred, "I had to go back and listen again with my eyes closed.... I could have sworn I was hearing Michael Hutchence!"

Sounding like legendary frontman Michael Hutchence is no easy task. "I guess the hardest thing, the most challenging thing when I started KICK," acknowledges Massi, "was capturing the great variety in Hutchence's voice. He can sound sensitive and soft and he can be super strong and really belt it out and sometimes that all happens within one phrase or even a word. It took a lot of self-control to capture how he projects his lyrics and the music. It's impossible to really sound and look like him; he's an Adonis, another Jim Morrison, Morrison in a pop sense. I can't mimic that; all I can do is do my best to capture his spirit."

The focus has been on faithfully recreating the music in its most powerful sense; an in-the-pocket bottom end from bass player Don Leslie and drummer Johnny Dee, a brilliant combination of piano and synth by Mark Goodnough, the signature guitar tones produced by guitarist Todd King and Jason Taylor, the saxophone by Nottingham, England's Tom Wheat, and the spot-on lead vocals by Cory Massi, all lend to a powerful high-energy show. KICK - The INXS Experience will take you back. It will reignite your passion for INXS. It will introduce you to music that is still as fresh today as the day it was written; from "Original Sin" to "Elegantly Wasted" and everything in between, including (but not limited to) "Need You Tonight," "New Sensation," "What You Need," "Don't Change," "Listen Like Thieves," "The One Thing," "Bitter Tears," "Suicide Blonde," "Not Enough Time," "Beautiful Girl," and "Devil Inside."
You must be 18 or over to enter unless accompanied by your parent. Valid ID required.
Save some money! There's only a $1 fee when you buy your ticket at the box office.