Event Details
Back to Event List
Fri 06.14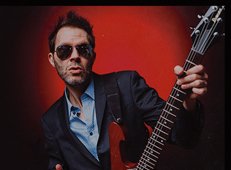 PAUL GILBERT
Genre: Rock
Doors: 7:00 PM
Showtime: 9:00 PM
Tickets: This event has already occurred. Tickets are unavailable.

Metal guitar virtuoso Paul Gilbert began playing music at age five, and by age 15 was not only touring local clubs with his band Tau Zero but was even spotlighted in Guitar Player magazine alongside fellow up-and-comer Yngwie Malmsteen. In 1984, Gilbert relocated to Los Angeles to attend the Guitar Institute of Technology, becoming an instructor there the following year; concurrently, he formed the band Electric Fence, which by 1986 evolved into Racer X. Their debut album, Street Lethal, appeared later that year, but in the wake of the follow-up, 1987's Second Heat, Gilbert exited to join Mr. Big, which in 1992 topped the pop charts with the ballad "To Be with You." Mr. Big disbanded in 1996, and a year later Gilbert made his solo debut with King of Clubs. He also re-formed Racer X, who had enormous success in Japan with the 1999 LP Technical Difficulties and 2000's Superheroes. The ensuing years saw Gilbert continuing to release solo albums while recording and touring with Racer X, and in 2011 he teamed back up with Mr. Big and released the album What If. The following year Gilbert issued his 12th solo outing, Vibrato, followed by the 2014 covers LP Stone Pushing Uphill Man, and the Heatseekers-bound I Can Destroy in late 2015.
You must be 18 or over to enter unless accompanied by your parent. Valid ID required.
Save some money! There's only a $1 fee when you buy your ticket at the box office.