Event Details
Back to Event List
Thu 09.30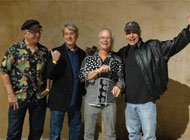 Free Outdoor Show!
Pile O' Rocks
Genre:
Doors: 6 pm
Showtime: 7:30 pm
Tickets: This event has already occurred. Tickets are unavailable.

Pile O' Rocks was formed in October 2016 by four musicians with lengthy resumes in some of the best groups in the Washington DC area. The band name comes at the suggestion of noted music and entertainment journalist, Buzz McClain, who long ago recognized the need for a band that could uphold the memory and music of Rockpile. Pile O' Rocks does just that, not only performing music from Rockpile's only LP, "Seconds of Pleasure", but also from the careers of Nick Lowe and Dave Edmunds, the front men for the band. After finally releasing a true Rockpile album after a few years of performing live and playing on each other's albums, they disbanded, never to play together again.
Even to those unfamiliar with the songs, the music is just so great, you'll be up on your feet and out on the dance floor.


Pure pop & pub rock supergroup, ROCKPILE, featured Nick Lowe, Dave Edmunds, Billy Bremner and Terry Williams. Powerful and highly influential, they had masterful chops, clever versatile songwriting, and great harmonies. Drawing from Chuck Berry style rock n roll, rockabilly, and Everly's harmonies, but played with punk's energy, they carved the way for the power pop and new wave genres that soon followed.


Pile O' Rocks also cover 70's and 80's British Pop and New Wave by Elvis Costello, Graham Parker, The Records, Badfinger, The Beatles, Squeeze, NRBQ, and others.
Pile O' Rocks is:

Bruce Moyer: (40 Dollar Fine) guitar & vocals
Louie Newmyer: (Rock-A-Sonics/Jumpin' Jupiter) bass & vocals
Dave Egelhofer: (Soul Crackers/John Wicks Records) guitar & vocals
Ronnie Smith: (Cactus Liquors/Soul Gravity) drums & vocals

This is an all ages outdoor show. Capacity is very limited. Entry is first come, first served, so we strongly suggest showing up early.