Event Details
Back to Event List
Sat 08.28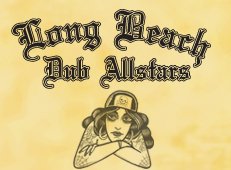 POSTPONED LONG BEACH DUB ALLSTARS
Genre: Ska
Doors: 7:00 PM
Showtime: 9:00 PM
Tickets: $20 advance / $25 day of show

On September 1, 2012, Long Beach Dub Allstars played their first show in 11 years at the Queen Mary Events Park next to the Queen Mary in Long Beach, California, where they opened for The Wailers and played alongside Tribal Seeds.[2] Then on September 30, 2012, Long Beach Dub Allstars performed at the Yost Theater in Santa Ana, California, where they opened for Fishbone. They played another show at the Brixton Southbay in Redondo Beach, California on January 25, 2013 with the local Redondo Beach Band Special "C". The reunion lineup consists of Marshall Goodman "Ras MG" on drums, Michael "Miguel" Happoldt on lead guitar/vocals, Opie Ortiz on vocals, Jack Maness on vocals/guitar/keys, Tim Wu on sax/flute/vocals, and Edwin Kampwith on bass.

Although there is no set release date, be on the lookout for some new music coming from the Long Beach Dub Allstars in the future. When asked what kind of style the fans could look forward to hearing in the new material, Jack Maness stated, "We're doing some of the things that we're true to and we're also expanding into some other stuff."

According to Opie, the band has been back in the studio working on new material. "Where ever we can get a good sound" is what was said in regards to that. Without giving too much away, the Long Beach legends hinted that we can expect some guest appearances on their new releases from artists they have worked with in the past, as well as new artists that they have plans on working with in the future.
You must be 18 or over to enter unless accompanied by your parent. Valid ID required.
Save some money! There's only a $1 fee when you buy your ticket in person at the box office.