Event Details
Back to Event List
Fri 04.23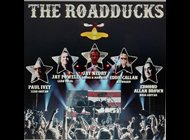 Free Outdoor Show!
The Roadducks
Genre:
Doors: 5 PM
Showtime: 7:30 PM
Tickets: This event has already occurred. Tickets are unavailable.

The Roadducks enter their 45th year in existence with a legacy forged through over 5600 shows in 30 different States. Multiple lineups and personnel changes reflect a continuing work in progress. New faces, musical styles, and voices continue to create new variations on an old theme: reworking of timeless rock songs in the Roadduck style… brings the party wherever they perform. The powerful voice of Jay Powell (Strasburg, Va.) joins on guitar, Ed 'Uptown' Brown (Memphis, Tn.) on Bass and vocals, Paul 'Bama' Ivey (Mobile, Al. ) guitars and vocals Eddie 'Downtown' Callan ( Baton Rouge, La.) a stalwart member since 1986 with time off to tour with The Marshall Tucker Band and Delbert McClinton on keyboards, vocals, and social media along with founding member Jay Nedry (Mt. Vernon, Va.) on drums and vocals ( Jay can also be seen in the hit TV show Paradise City on Amazon Prime).
The band is a self-contained fully mobile unit located in the DMV region. Complete with their own staging, state of the art sound and lights, with top of the line amps, guitars, keys, and drums, the Roadduck's mantra of 'No Bar too Far, No Hall too Small' still holds today. The Roadducks are truly one of the legendary and longest enduring, best bar bands in America. A new record and U.S. tour is in the works, so there is actually no telling just where we might show up. Stay tuned... Still plenty of time to get ducked!



This is an all ages show. Admission is first come, first served.


The ongoing impacts of COVID 19 are being felt now more than ever. As we enter another season we are faced with growing challenges and increased costs. Maintaining staffing and operating costs for our outdoor shows, providing PPE, stocking antibacterial cleaning products, as well as day to day expenses continue to be a struggle. While we provide 100% of our outdoor events for free, please consider a donation that will help us in our efforts to keep live music going in Northern Virginia. Thank you for all your support.
Scan or click the QR code below