Event Details
Back to Event List
Fri 05.28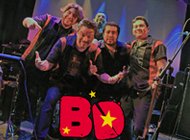 Free Outdoor Show!
CANCELED Bongo District
Genre:
Doors: 5:00 PM
Showtime: 7:30 PM
Tickets: This event has already occurred. Tickets are unavailable.

From the melting pot of cultures that blend in the Washington D.C. area, emerges a
fusion of musical genres that is shaking dance floors and captivating music-lovers
attention; they are known as the Bongo District.

Their mix of reggae, funk, and ska spiced up with a latin flavor has earned them local
recognition becoming on of D.C.'s most sought after bands, playing as regular acts in top
venues such as The Bullpen and the Bluebeat Concert Series; as well as opening for
established South American artists Los Cafres, Los Rabanes and Desorden Publico
among others. Their unique blend of popular covers and original music makes their live
act appealing to audiences of all ages, taking them on a trip through passages of
relaxing reggae music to full blown stadium-chant percussive parties. With a three-
hour-plus repertoire under their belt, they are able to adapt to any size and style of
venue without losing the enthusiasm that characterizes their live show; be it an
outdoor stage, live venue, or a small local business, the entertainment is guaranteed.

"El Distrito", as they like to call their shows, is a judgement-free zone where they
encourage audiences to express themselves while enjoying music in communion.
Bongo District is currently recording their first original EP, which promises to evolve
around the all-inclusive welcoming message they transmit at every one of their
performances: "Dear fellow music fans, thank you for joining and enjoying this
experience with us, you are now part of the District..."

This is the one District where you are sure to find all your musical needs fulfilled.

This is an all ages outdoor show. Capacity is very limited. Entry is first come, first served, so we strongly suggest showing up early.