Event Details
Back to Event List
Thu 04.22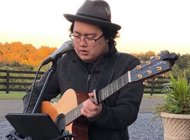 Free Outdoor Show!
Joseph Monasterial Solo
Genre:
Doors: 5 pm
Showtime: 7:30 pm
Tickets: This event has already occurred. Tickets are unavailable.

Joseph R Monasterial is a vocalist and acoustic guitarist based in the D.C. area. Singing has always been an undeniable passion that expresses the beauty of his surprisingly soulful, rich and unique voice. He first taught himself how to play an acoustic guitar when he was 16 and shortly after discovered that he could sing. Now performing locally in the DMV area and other states like New York, South Carolina, and California, many audiences of all ages have taken delight in his amazing vocal ability. He performs crossover styles and shows a good balance of a pop vocal style in singing an eclectic blend of tunes. Blessed with his musical talent coupled with his commitment and diligence, he is on his way to reaching his dreams. Through his music, Joseph has enriched his life and gained so many wonderful friends.

This is an all ages outdoor show. Capacity is very limited. Entry is first come, first served, so we strongly suggest showing up early.